For those of you who don't read Maryam Montague's blog about her life in Morocco, My Marrakesh you are missing the most delicious treat.  Maryam blows me away in each and every post with her amazing writing and photos.  As if that wasn't enough she just published a beautiful and fascinating book Marrakesh By Design about Moroccan design, filled with stunning photographs.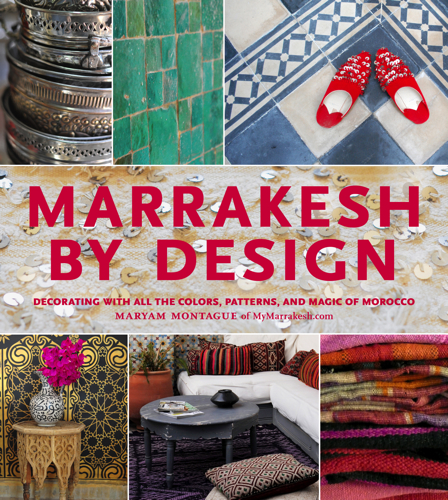 Maryam, your "real" job as a humanitarian takes you all over the Middle East, and then when most people would come home and relax you run an amazing boutique hotel,  write and photograph a book and award-winning blog, have a shop, Red Thread Souk and somehow find time for kickboxing.   Yet you seem so deeply calm and relaxed.  
Let's start by talking about your humanitarian work, you come from an interesting family, How did your experiences growing up lead you to the work you do?
I grew up with a Dad who did humanitarian work overseas, focusing on international public health.  My brother – a doctor – could also be found working stints on emergency medical units in Pakistan.  We understood profoundly as a family that the world was a big place and there were ways that we could contribute.  
Your work fascinates me, what countries and projects are you focusing on presently?I have worked in over 30 countries on programs as diverse as fighting child labor, training women to run for political office, and running a prisoner rights program. Right now I am working on a local government program in Mali, and civil society programs (youth, disabled, women, etc.) in Morocco and Egypt. This is my life's work and gives me a sense of purpose and grounding.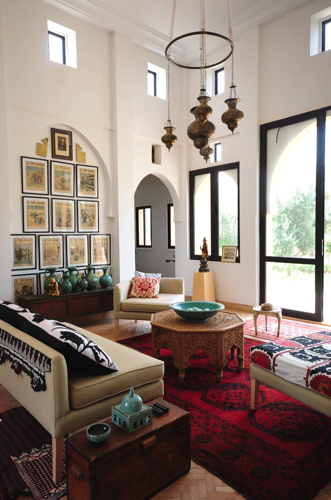 Many of us dream of moving to another country. What made you decide to move to Marrakesh, and what is it like being an ex-pat there?   
I was posted to Morocco to run the programs of an international non-profit organization.  From the moment I landed, I knew it was the place for me.  It has a kind of gorgeous madness that is hard to forget, teeming to overflowing with color and pattern, and a culture that is iconic and unforgettable.  We loved our life here and decided to settle down on a semi-permanent basis.  Our friends are a combination of ex-pat and local and it all feels like home now!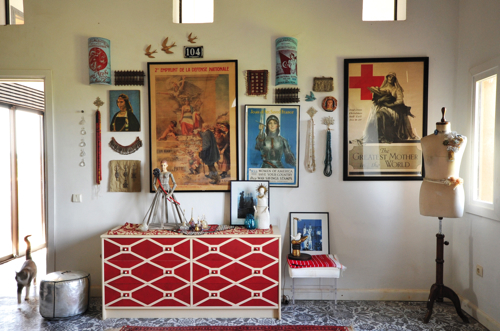 Your wanderlust has taken you to an amazing amount of countries, besides Morocco what are some of your favorites and why? I have loved so many places that I've been to. But South Africa and Nepal hold a special place in my heart. South Africa for the amazing design culture and sheer beauty. Nepal for its incredible architecture (Kathmandu has more world heritage sites than any place in the world) and its adorable people.
You are the face of Peacock Pavilions, what is your husband Chris's role? 
It's a partnership in every sense of the term.  As an architect, Chris designed and built Peacock Pavilions.  But he also is responsible for its day-to-day management, making sure that everything runs smoothly for our guests.  We're proud to be ranked #6 out of 867 B&Bs in Marrakesh on Trip Advisor:http://www.tripadvisor.com/Hotel_Review-g293734-d1902157-Reviews-Peacock_Pavilions-Marrakech_Marrakech_Tensift_El_Haouz_Region.html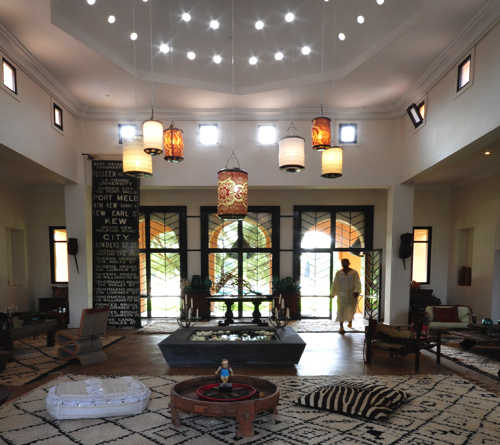 You have such a wonderfully eclectic style I love the way you mix ethnic, modern traditional, and make it all feel so relaxed and effortless. Did you always have an interest in interior design?
I grew up with a family that was passionate about international design and who were global collectors.  My parents have a very different (and greater) budget than I do.  But we share a love for the strange, beautiful and curious.  It's the very juxtaposition and tension between things from different eras and countries that make it interesting. 
I have renovated a number of houses, with all of the various issues that include. What was building in Morocco like, things are done in such a different way there?  
Oh my goodness……..honestly, it's grey hair-inducing.  There is a written and unwritten code in Morocco on the way things should be done and it requires transactions in several different languages.  Let's just say building in Morocco is not for the weak-hearted or those not willing to be extremely persistent!
What are some of your favorite Moroccan shops and what about outside of Morocco?
I am loving the shop Majorelle 33 right now. It's a concept store across from the Majorelle Garden that carries all the latest and greatest designers with a super fresh mix. In terms of stores elsewhere, I love the souks in Old Yemen and shopping from street vendors in Dogonland.
You have the most amazing women's dinner parties. Please tell us a bit about them.
I have a great group of girlfriends in Marrakesh – many of whom are designers – and we love to have special dinners just for each other! Food & Wine Magazine came out to shoot some of our festivities. Stay tuned for Food & Wine's December issue to learn more!
How did your book come to be? 
A couple of years into writing my blog, My Marrakesh, an editor from Artisan Books contacted me and asked if I might be interested in doing a book.  I said yes, and it's incredibly exciting to see it now in print!
Check out Bright Bazaar – the BOOK!!