While our pup Charlie is a bit blase about his fame, we are so thrilled to be the cover story of this month's Martha Stewart Living magazine!
pillows Marimekko, rug PaperTrail, cushion fabric made from curtain and stool Ikea, Pouf CB2, light Janaki Larsen.
We bought this house 4 years ago with the help of buyers agency Queensland and completely gutted it. Opening up the downstairs from 6 small dark rooms to a large open plan living/dining room with the window seat/ mudroom and going from a tiny galley kitchen to a large open kitchen. What really sold us on the house was the amazing yard and garden. But sadly the house had hardly any windows looking out towards the garden and only one door leading out to it.
Well, we changed all that! We added a large porch ( really our main living/ dining area during the warm months) and 3 sets of french doors leading out to it. The window seat looks directly into the garden as well. We had a funky, falling apart mudroom which we replaced with this fabulous new entry pictured above and below.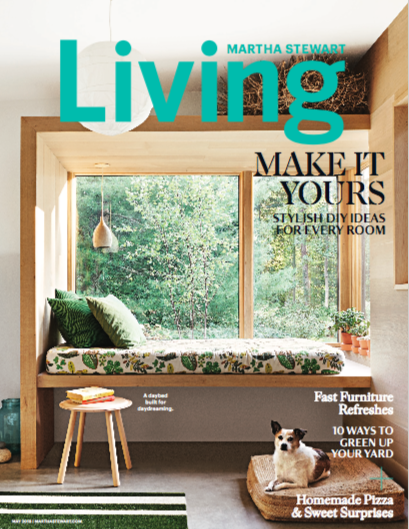 to see some of the processes check out interior framing and floor plans and windows and kitchen plans and floors and exterior painting and kitchen cabinets.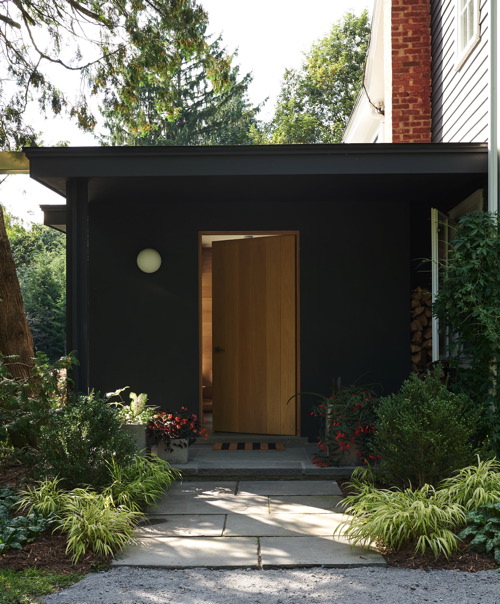 Custom black paint Sherwin Williams, planters Target, light Y Lighting.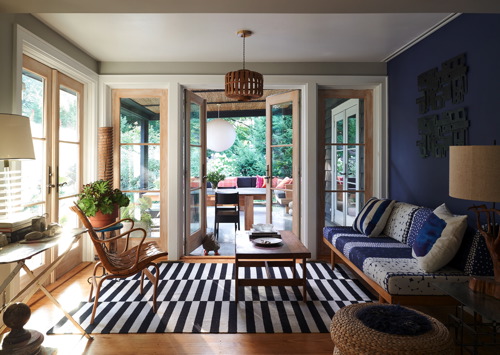 Rug, pouf and throw pillows, outdoor dining chairs Ikea, daybed fabric Marimekko, planter Paula Greif, bowl Janaki Larsen, rock sculpture Arno Cornillon, pillow on pouf Two Swim Birds available at Ateleir Solarshop, Farrow & Ball paint in Pavilion Gray & Pitch Blue.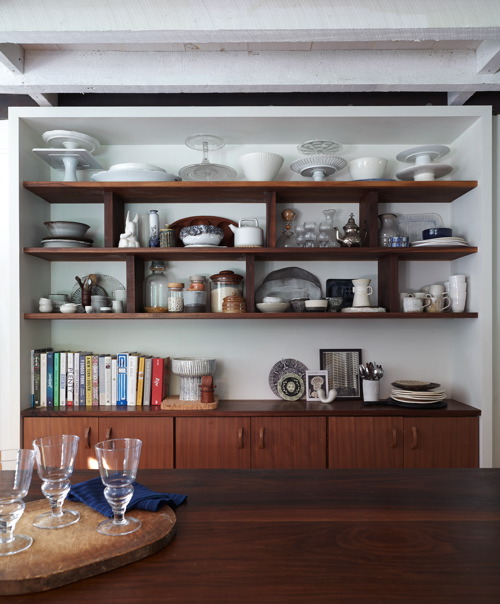 We worked with several amazing companies to complete our home including the amazing people at Master Brand cabinets. They generously worked with us to translate our dream kitchen into a reality. We now have a kitchen that functions beautifully in our lives, both from the day to day of busy family life to the large entertaining we like to do.
I have space for all of the pottery, glassware, and dishes I collect for both our use and as props in my work. After wanting to take up pottery for years I finally have so our shelves are quickly filling up…Blue stripe bowl Paula Greif, a small photo by my dad Sy Kattelson represented by Howard Greenberg Gallery,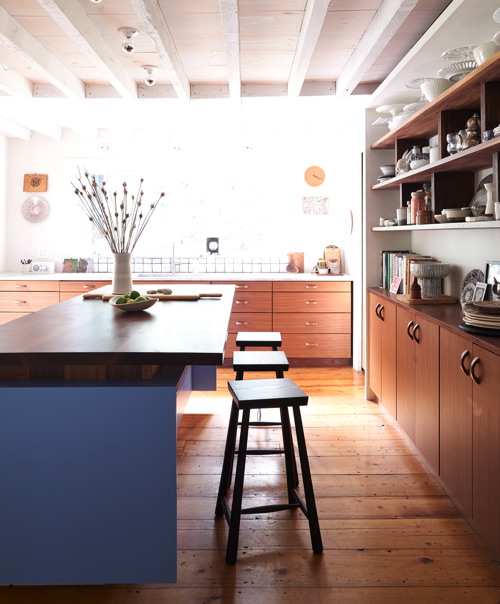 Sink and faucet  Blanco, stools by Blackcreek Mercantile. 
The jumping-off point for our kitchen was the Miele white glass line. Our previous home at stainless appliances and I loved the freshness of the white glass. Although our kitchen is fairly generous in size it's not huge so we were concerned about it feeling too dark. The mix of white Omega cabinets and wood along with the custom color island keeps it light and open. We wanted the house to have an organic, Scandinavian feel. Modern yet warm and filled with the vintage pieces we love along with the many handmade pieces from the coffee table my dad made to the art and pottery we collect.Handmade custom tile by Tivoli Tileworks, Appliances Miele.
The table was custom made by our friend George Smith, the chairs are all vintage Thonet I have had for years. Repainting to fit my different moods. Here they are painted in subtly different shades of green. The bookcase is a vintage find and the chandelier is Lindsay Adelman's – You Make It, the paper sculpture is by Ramon Lascano.
The only stairs and walls on either side are the only remaining original walls. The wallpaper is by Birger Kaiplainen and is available through Tiina The Store.
 On the second floor, we raised the ceilings and went from one bathroom and 5 bedrooms – 2 that was minuscule to 2 bathrooms and 3 bedrooms plus an office. Throughout the house, we took old doors we had rescued from a house that was being torn down, stripped them, and added new -old hardware.
The euro squares are from Les Indiennes, the deco pillow is from Susan Connor, the sheets are West Elm, the quilt is from Paper Trail, lighting One Forty-Three, the photo over the bed Sy Kattelson, bed Ikea, nightstands buyers agent, paint Calamine by Farrow and Ball. 
To make my walk-in closet extra special I covered it in Neisha Crossland Rose wallpaper.
 Out on the porch we built this custom sofa, plenty of room to read and watch outdoor movies. 
We covered the ceiling in bamboo fencing and painted it the same custom color from Sherwin Williams as the rest of the outside of the house, chair vintage Richard Schultz for Knoll, similar available from Design Within Reach.
Photo's Bjorn Wallander for Martha Stewart Living.
We want to give a huge shout-out to the companies that generously sponsored our home, Master Brand Cabinets, Miele, Blanco, Farrow and Ball, Sherwin Williams, and Neisha Crossland.
Check out A brief overview of tapware